Monday morning to Friday lunchtime = Clean eating
Friday evening through to Sunday night = binge eating
Monday morning, repeat cycle..... Sound familiar?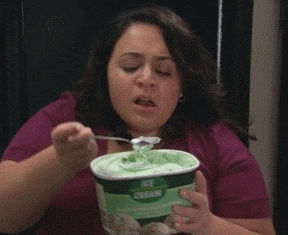 A weekend of over indulging defeats the object of eating clean throughout the week. That is not to say you can`t have the occasional takeaway, but unfortunately one is never enough, which usually leads to writing off the entire weekend.
We need to break the cycle and achieve our weight loss goals on the weekend too.
Instead of admitting defeat and scoffing our faces for the next 48 hours thinking to ourselves we will start again on Monday, we need to take a more positive approach and get right back to clean eating the very next morning.
Hangovers tend to leave us feeling quite lethargic the following morning but even something as simple as going for a run or walk can put us In a better mind frame for the day. I find more mentally stimulating workouts such as boxing a great way to start my day. All of a sudden we don't want a fry up the following morning and we can get back to our usual routine.
It is easier to stick to the routine during the week as we tend to be more organised with working, eating and training, however the weekend can be more difficult to stick to when we let loose and become less organised. We use the time we are not at work to socialise with family and friends.
Exercising stimulates your brain and releases feel good endorphins which relieve stress and leave you in a much happier mood. This feel good factor can be carried throughout the weekend so that a 30-45 minute workout Saturday morning suddenly changes your entire weekend. You have more energy throughout the day, you are eating healthier options which aids your weight loss goals and you still have time to socialise.
Ignore the extra calories consumed on that Friday night down the pub and concentrate on returning to normal on Saturday and Sunday. Make use of these two extra days, consider them two extra workouts. Being organised on the weekend can be the turning point for you losing weight.
One bad meal will not make you fat so don't assume you have ruined all your hard work in one sitting, sleep on it and start fresh in the morning.
#weekend #weightloss #goals #loseweight #diettips #exercisetips